Trendsetter Internet? Scare monger AI? Consequences of digitalisation (7th episode of the series)
All podcast episodes and detailed information on individual episodes at News.
The podcast was recorded in memory of Konrad Zuse and his 25th anniversary of death on 18 December 2020 at the Zuse Institute Berlin (ZIB). The group photo (above) was taken in front of the supercomputer 'Lise', named after Lise Meitner. The computer comprises 1,270 computing nodes, with a total of 121,920 computing cores.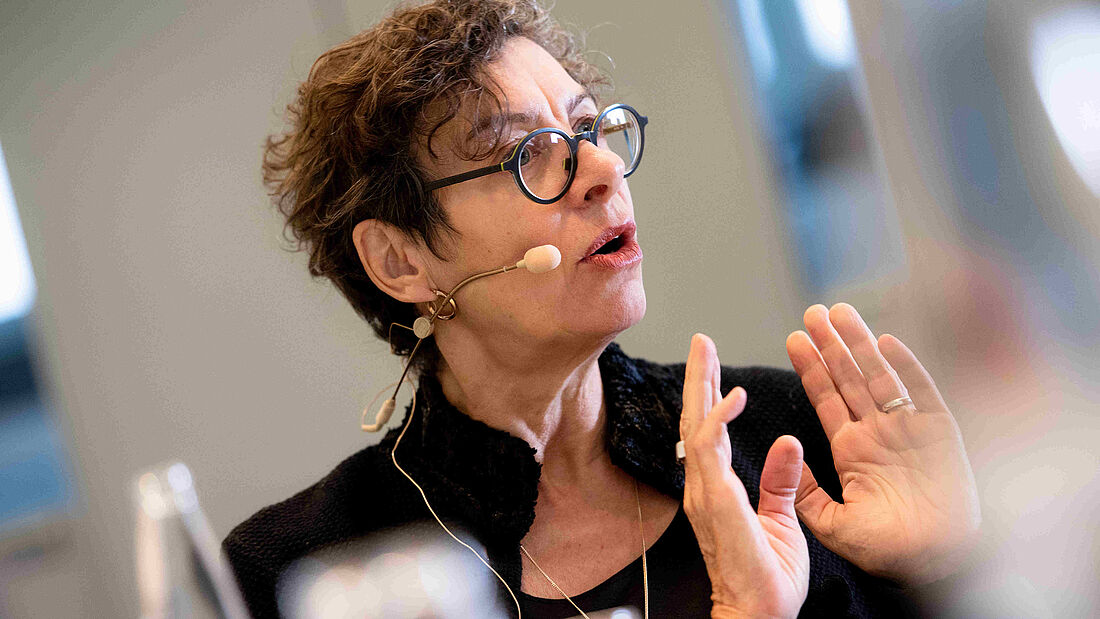 'The Internet helps us see how many non-democrats there are'
The political scientist Prof. Dr. Jeanette Hofmann, head of the research group "Politics of Digitalisation" at the Social Science Research Center Berlin (WZB) and Professor of Internet Policy at the Free University of Berlin, conducts research on topics such as global governance, regulation of the internet, and digital change. In the podcast, Thomas Prinzler talks to her about 'Mediatised democracy in times of digitisation' (the title of one of her articles). According to this, a passive role is typically attributed to democracy, and an active role to digitalisation. In fact, however, technology is not 'a matter of its own law. Digital technology, in particular, is so flexible that we can always put a stamp on it and say: This is what we want, and this is not what we want.' Many problems are projected onto digital technology, even though they do not belong there.
'Yes, we do have problems of democracy. But technology reflects this – it does not cause it,' says Prof. Hofmann: 'However, it should also be mentioned that recommendation algorithms often have a kind of feeding effect. Those who are looking for scandals are now getting them served much more often.' Therefore, she currently sees threats to democracy, 'but I do not think that we should blame digital media for this.'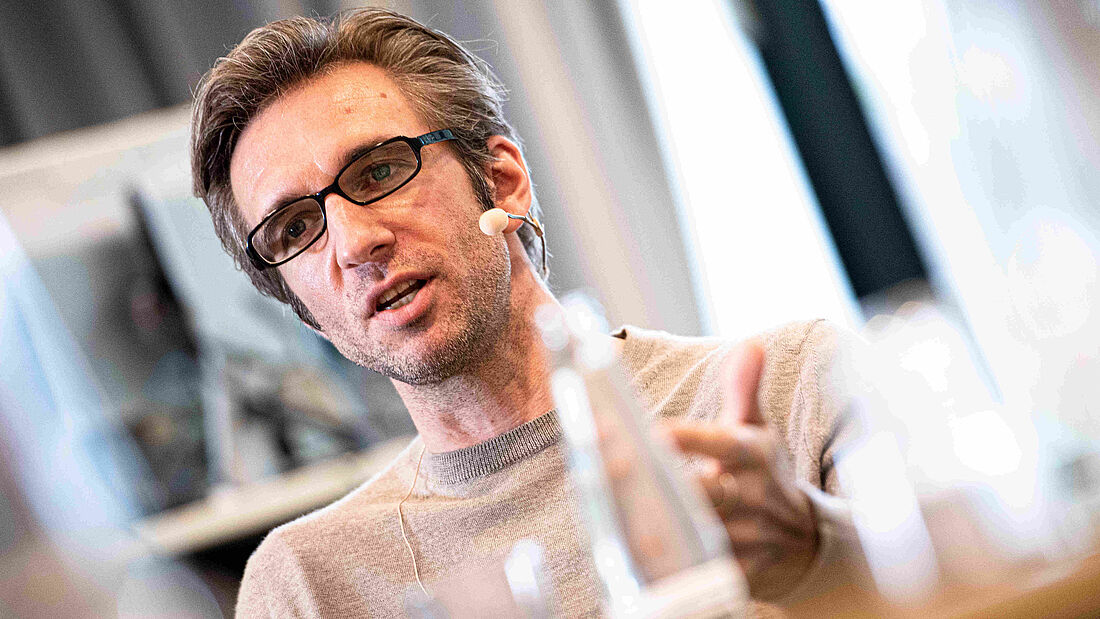 'Dealing with digitisation is also always a question of mindset'
Prof. Dr. Sebastian Pokutta is Vice President of the Zuse Institute Berlin (ZIB) and Professor of Mathematics at the TU Berlin with a research focus on Artificial Intelligence and Optimization. Asked about how to ensure that algorithms make fair choices, he answers: 'Algorithms themselves cannot be fair or unfair. They are zeros and ones. The question of fairness only comes into play with the user or designer: Was the data selected fairly? Have I represented all categories of protected persons in a fair way in my data?'
For Prof. Pokutta, algorithmic intelligence is therefore primarily a tool that we can use. 'The resulting possibilities are those that the users have created. Any tool can be used or abused, whether it be algorithmic intelligence or other tools. But the crucial addition here, is the potential.' In the past, he said, decisions were often made by an individual person. 'Now, there is artificial intelligence that decides over many people homogeneously and, therefore, holds much more influence through a single decision.' When it comes to the question of the fair- or unfairness of algorithms, one must always clearly distinguish between the act of the algorithm and the act of the person or programmer of the respective application. Fairness and ethical questions should, therefore, always be primarily understood and clarified outside of technology.'
In the podcast, Pokutta quotes a colleague from the U.S., who once told him: 'If I talk about a system of artificial intelligence and replace the word "artificial intelligence" with the word "God" in a sentence, and the meaning of the sentence does not change, then we are going to have a problem.' Ultimately, however, dealing with and trusting in digitisation is always a question of mindset: 'Do I have a mindset of possibilities, or do I have a mindset of fear that makes me think about the risks first?'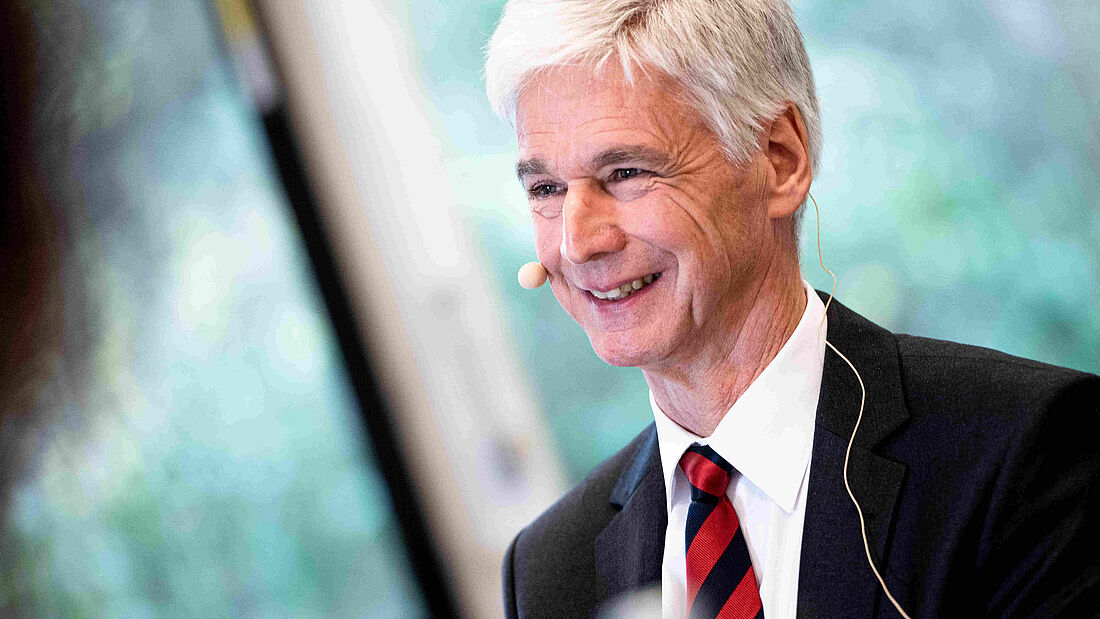 'Digitisation is an enabler in different areas – a tool to become more efficient'
Prof. Dr. Eckart Uhlmann is a production scientist and head of the Fraunhofer Institute for Production Systems and Design Technology (IPK) in Berlin and spokesman for the "Digital Networking" performance centre. The expert for digital networking assumes that companies of all sizes – from start-ups to large corporations – will depend on digital technologies, such as the Internet of Things and Industry 4.0, to be able to compete in the future. Digitalisation is an enabler in various sectors of the economy and 'a tool to become more efficient. We will also have to become more individual and respond to customer wishes more. Digitisation will help in this respect as well.'
The Fraunhofer Institute for Production Systems and Design Technology particularly supports small- and medium-sized companies with digitisation. 'We have developed a "Berliner Koffer für Industrie 4.0" (Berlin Suitcase for Industry 4.0), which contains a construction kit for digitally integrated production. It contains building blocks such as sensors, actuators, and software concepts that we can use to quickly test in companies what makes sense and what does not. This is particularly important here in the Berlin-Brandenburg region, where we have many small- and medium-sized companies. Digitisation enables them to network with each other in a way so that they become system suppliers and, thus, also offer themselves as suppliers to large companies.'
The next industrial revolution, continues Uhlmann, will be based on new business models. 'For example, we will move away from selling products and, instead, sell the benefits of the products or their availability. This also applies to traditional business areas such as mechanical engineering. It also changes the requirements for machines, which then are no longer allowed to fail, but expected to run constantly.'